Underground water control can regulate water levels, direct water into the soilor filter nitrates. 
---
THINK DIFFERENT
Nitrate management in tile water is a big reason why this water control structure has slowly gained a foothold in the Corn Belt, but its potential for providing timely water to corn and soybeans may spell the future for this underground tile water management tool. Some see the day when hundreds of thousands of acres of tile-drained land will use smart drainage systems to supply water as well as drain it away. Learn more here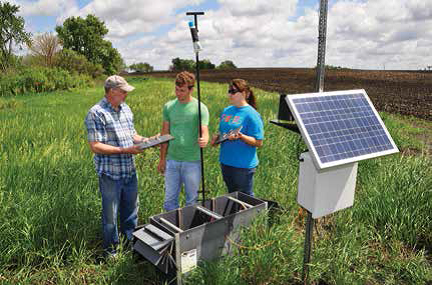 Conservationist Bruce Voigts explains how stop logs slide down
into a water control structure to control water levels in a saturated
buffer in north central Iowa. Solar powered measuring equipment
documents water flow and weather conditions.